Earlier this year, I was invited to participate in a theatrical performance piece, The Tin Can Cabaret, put on by my teacher & friend Rain Anya and her partner Sara "Bebe" Holmes. For the shows opening act, we created a mischievous aerial playground of vagabonds, fairies & thieves under the spell of a pair of clowning puppeteers. The show was a spectacular success, selling out to a packed house at the Kinetic Arts Center in Oakland.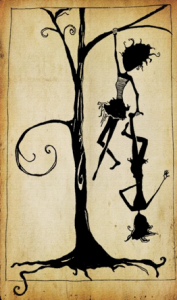 I'm once again very excited to be working with Rain & Sarah, this time as technical director on their latest show, a dark and whimsical hybrid aerial/theatre piece called "The Twisted Tale".
Set in a children's playground, the story follows a young Chloe's encounter with the great trickster, Luce. The Devil, a muse at heart, befriends Chloe through her love of puppets, mischief & danger. Together they spin a twisted tale, until all is lost to time and the grind of adulthood.
A lampost, monkey bars, and a swing. All these become impromptu apparatus for a young Chloe & The Devil as their shadow puppet theatre comes to life.
It's an ambitious and beautiful piece, and I can't wait to help make it real!